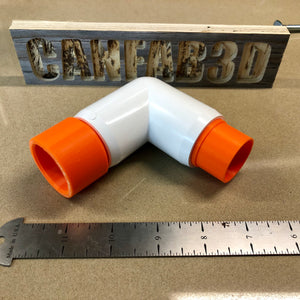 Squeaky Clean Vinyl
90 degree vacuum hose adapter.
Great for tight spaces or enclosure mounting the MK-III. 
Replicates both ends of the standard hose mount and turns them sideways, down or up. 
Elbow will always be white and the 3D printed adapters will vary in colour. They are printed in ABS so they can also be solvent welded with regular ABS glue and regular 1"ABS or PVC pipe for more extreme designs.